I met Ashley in the
New Jersey Transit
section of Penn Station last week after I spotted this tattoo on her right foot:
Now, if you've not read the
Harry Potter
series, perhaps it is best to skip the rest of the post, because it might not make a lot of sense.
Those in the know will understand what I mean when I explain that the ghostly creature on the top of Ashley's foot is the
patronus
of
Severus Snape
, as described in
Harry Potter and the Deathly Hallows
, the final installment of the seven-part series by
J.K. Rowling
. The patronus takes the shape of a doe.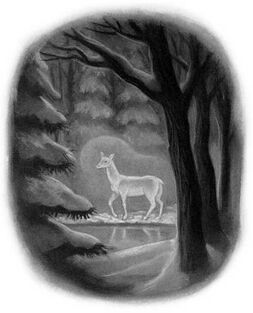 The quote above the doe is "It's real for us..." as remembered by Snape when speaking with
Lily Evans
, the girl at
Hogwarts
who became Harry's mother. Identical creatures appear when they cast the patronus charm.
Ashley's friend drew it up and she had the piece done at
Tattoo Nation
in Wayne, New Jersey by
Matt "Monty" Montleon
.
This is one of two tattoos that Ashley has. The other resides on her left foot:
The snowflake was also inked by Monty and is a memorial to Ashley's grandmother, whose last name was Snow.
Thanks to Ashley for sharing her two tattoos with us here on Tattoosday!